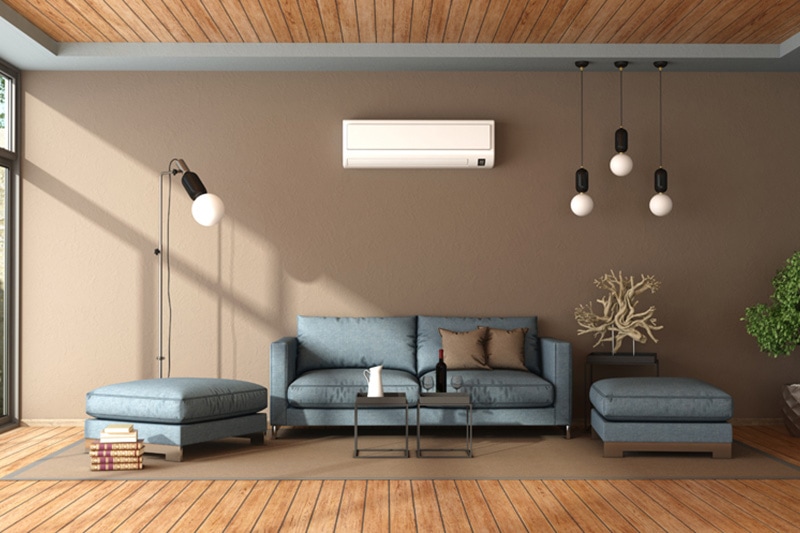 Sometimes, a simple, elegant piece of technology can deliver more with less. Ductless mini splits are a triple threat—compact wall units that generate heating, cooling, and ventilation. No ducts required, and no dull whirring noises—they operate in near silence. 
Also, ductless units use minimal energy. Typically, you spend up to 30 percent less to cool and up to 60 percent less to heat when you upgrade from your traditional air system, according to ENERGY STAR®. 
Just about every Beaufort customer who made the switch has something positive to say about these appliances. We've performed installations for energy-conscious families and owners of historic homes where ductwork isn't an option. Some homeowners are just plain fed up with energy loss and repair costs from their leaky ducts.
No matter what piqued your curiosity, the team at Four Seasons Heating & Cooling is glad you're here. Mini splits are an excellent option to explore if you want an alternative to traditional air conditioners, furnaces, or heat pumps. Going ductless is a smart investment that benefits your home long-term, potentially for decades. 
No Ducts? How Does It Work?
Ductless units pack powerful heating and cooling technology into a small setup. They rely on two central modules—the evaporator (indoors) and the compressor (outdoors). You control the temperature using a remote controller, or on your mobile device when coupled with a smart thermostat.
The evaporator resembles a modern rectangular light fixture. It mounts easily to your wall or ceiling. The evaporator harvests heat and humidity from your home, sending it outside. Then, using slotted vents, the evaporator evenly distributes the treated air through the room it's installed in.
A small refrigerant line connects it to the outdoor compressor, a small box with a fan. On hot days, the compressor releases discarded heat that the evaporator collected. On cool days, the process works in reverse, expelling concentrated heat into your home, like a heat pump.
What Are the Benefits of Going Ductless?
Here are just a few advantages:
1. Energy Savings
Are you looking to cut down on your electricity usage? With up to 30 percent less energy use on cooling and 60 percent less on heating, it's one of the most cost-effective products on the market. Lower utility bills are a major plus. Additionally, you'll reduce your carbon footprint, helping to preserve North Carolina's clean air for the next generation.
2. Easy to Maintain
A simplified setup means fewer parts to keep track of. They are also much easier to access, making cleaning and maintenance a breeze. To top it off, removing ducts from the equation eliminates the need for duct cleaning and inspections.
3. Less Noise Pollution
Most furnaces and AC units produce a humming or rattling, with a distinctive "shudder" at the end of each cycle. These noisy interruptions can break your concentration as you work or keep you awake while you lay in bed. With just a fan and an evaporator, ductless units make your home a much quieter place.
4. Versatility
With all-in-one heating and cooling, you have perfect temperature control at your fingertips. You also have less machinery to keep track of.
5. Individualized Temperature Control
Do you live in a family-sized home? Install multiple modules, and each family member can have it their way—no more arguing over the thermostat. You can blast cool air during your yoga session without giving anyone else a case of the shivers. You can also save energy by switching off the air in empty rooms.
Call Four Seasons Heating & Cooling To Make Your Ductless Dream a Reality!
Want to learn more about innovative heating and cooling solutions for your Beaufort, NC home? Four Seasons Heating & Cooling's team of certified HVAC experts is eager to assist. We install the only highest quality equipment and perform stellar maintenance and repairs. Call us at 252-247-5500 or request service online.